Tilt-up Construction: History and Uses
Tilt-up concrete construction is a remarkable process used to build billions of dollars worth of commercial buildings every year - but its humble beginnings can be traced back to a flower pot in 1849.
Tilt-up Construction: History and Uses
Tilt-up concrete construction is a proven method for building office buildings, retail centers, warehouses, distribution centers, call centers, manufacturing facilities and other commercial / industrial structures with speed, safety and construction cost benefits. But where did this innovative approach to construction come from? The following article provides a look at the history of tilt-up construction.
---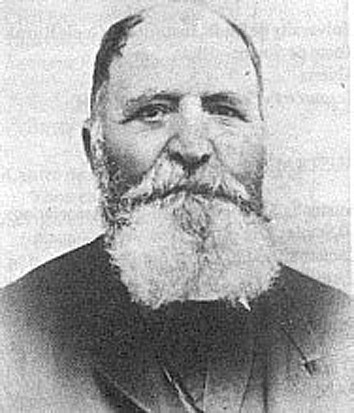 It all started with a flowerpot.
In 1849, French gardener Joseph Monier wanted to make a more durable flowerpot, so he used iron mesh to reinforce garden pots and tubs. That was the beginning of reinforced concrete and the basis of tilt-up concrete (in some regions referred to as tiltwall or precast panel concrete), an idea that wouldn't be fully developed until more than 50 years later.
In the early years of the 20th century, concrete was rapidly becoming the most popular building material. The world saw many firsts in those early decades: the first concrete streets, houses and high rises. Back then, concrete was solely produced off-site and walls were built vertically. But in the early 1900s, Robert Aiken was designing and building reinforced retaining walls at the Camp Logan Rifle Range in Illinois. Instead of using the usual method in making concrete walls, Aiken poured the walls in wall panels flat on the ground, like a sidewalk, and tilted the panels up onto a prepared foundation to form the walls. Steel rods were then used to anchor the walls to concrete footers. Thus, tilt-up concrete construction was born.
Aiken, who became known as the father of tilt-up concrete, soon realized that this method would be advantageous in other structures and used it on a number of buildings throughout Illinois. The first complete tilt-up building was a concrete factory on Aiken's own farm near Zion City, Illinois. Aiken poured the walls flat on a bed of sand, around door and window fames, and then tipped them up onto their foundation. In 1906, Aiken used the tilt-up method to construct the Memorial Methodist Church in Zion, as well as a two-story ammunition and gun house at Camp Logan. From here, Aiken refined his methods to include a steel tipping table that was used in the construction of 15 buildings in five different states.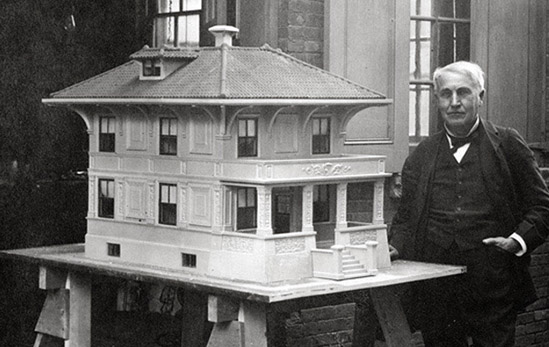 Thomas Edison, that intrepid inventor, saw the writing on the wall and realized that tilt-up construction was the way of the future. In 1908 he created an entire village of tilt-up concrete houses in Union, New Jersey that is still standing over 100 years later.
Although Aiken's steel tipping table made tilt-up construction easier, the new method of building with concrete didn't really start gaining popularity until the development of the mobile crane in the late 1940s. The mobile crane allowed large panels to be lifted into place with much greater ease than before. Ready-mix concrete also came about around this same time, allowing tilt-up construction to become even more efficient a method of building commercial structures.
These innovations couldn't have come at a better time. After World War II, business was booming in the United States and there was a great need for commercial and industrial structures. Because tilt-up concrete allowed builders to offer high quality projects at an economical price and with a reduced construction schedule, it became very popular. The tilt-up structures built in that era are still wearing their age well. Even the first tilt-up buildings are still being used today, a testimony to their strength and durability. In 1994, tilt-up concrete got even further validation when an earthquake hit Northridge, California. Even when roof connectors failed, tilt-up walls remained standing. Tilt-up concrete has proven to be impervious to wind, hail, mice and insects as well as being resistant to earthquake damage.
Since the 1940s, tilt-up construction has undergone many more innovations and refinements, and has developed into a process that is used by many top concrete contractors and general contractors in the commercial construction industry. One such innovation occurred in the 1980s when curved tilt-up walls were introduced. This more complex method creates walls that resemble skateboarding ramps, such as those first seen on the ADC Telecommunications building in Juarez, Mexico.
Because tilt-up concrete combines higher quality with higher resale values, faster delivery and lower maintenance, more than 15% of all industrial buildings are tilt-up. Tilt-up buildings range in size from 5,000 to over 1.7 million square feet. Individual panels can reach over 90 feet high and weigh 150 tons. Tilt-up construction is growing at an annual rate of about 20% and is used on about 650 million square feet of construction every year. In some parts in the country, such as Texas, tilt-up construction is responsible for almost 75% of new commercial construction, and the method is growing in popularity in Mexico, Canada and Australia as well.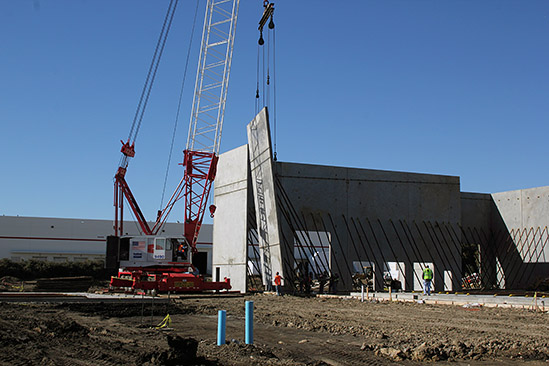 No matter what purpose it's used for, tilt-up concrete makes for construction projects that are extremely cost effective and efficient. Designing and building with tilt-up concrete is efficient because the wall panels can be formed and poured even while the rest of the building is being designed or even built. This overlapping of disciplines makes for speedier project completion. Tilt-up construction enables contractors and developers to control costs better too, because it utilizes ready-mix concrete which is made from native materials available near the job site. Tilt-up walls can be finished in a wide variety of ways, including textured paint, reveals, a variety of wall claddings and other techniques that add to the building's visual appeal.
While tilt-up concrete is most commonly used to construct one-story buildings, it is not unusual for this technique to be used for structures as tall as four stories. The tilt-up construction method has even been used for buildings as tall as ten stories.
Tilt-up concrete has come a long way since Joseph Monier's flowerpot.
There is much more to learn about Tilt-up concrete construction. Visit our website TiltUp.com to read more articles and see photos of the tilt-up construction process.