Concrete Contractor Home > Historic Concrete Projects > Assembly Hall - University of Illinois
Assembly Hall - University of Illinois
The First Concrete Domed Sport Structure, 1967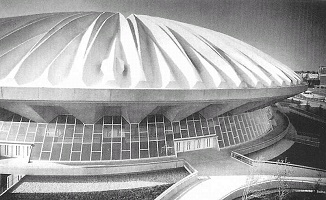 The Assembly Hall at the University of Illinois (U of I) in Urbana, Illinois, the first concrete domed sport structure, was completed in 1963. It was designed by U of I alumnus Max Abramovitz, whose firm also designed the United Nations Buildings, part of the Lincoln Center for the Performing Arts and Krannert Center for the Performing Arts on the U of I campus. Engineers for the project were Amman & Whitney Consulting Engineers.
Concrete contractors built the 128 feet high hall, with a dome spanning 400 feet of ribbed reinforced concrete in a folded-plate design that tapers to a mere 3.5 inch thickness. The dome was first cast on falsework. The ring-beam on which it was placed was prestressed by wrapping 614 miles of one-quarter inch steel wire under high tension around it. This made the dome self-supporting. The dome was the first of its kind, and at one time it was one of only two edge-supported domes in existence. Total cost of the project was $8.5 million.
Assembly Hall is considered an engineering marvel because of Abramovitz's concrete contractors used prestressed concrete in a way it had never been used before. Previously, buildings had been constructed of posts, lintels, arches or shells. Abramovitz was interested in seeing whether contractors would continue to use his prestressed technique in the way he designed it or if it would be refined in a way to fit in with the previously used forms.
Assembly Hall had not undergone any renovations since it was completed in 1963, so while the building was once state-of-the-art, by the 1990s it was determined to lack some necessary facilities. The university decided to remedy these problems in 1996 by adding 50,000 square feet of underground receiving and storage areas. Also part of the renovation was a pressroom accessible by elevator, three receiving docks, a 329-foot long open ramp and a 141-foot long reinforced concrete tunnel.
Despite the changes, Abramovitz's vision remained very nearly the same. His concrete wonder now sports a plaza for vehicles and a new tunnel drive but otherwise remained unchanged.

Bob Moore Construction Company

This website is provided by Bob Moore Construction, a leading concrete construction company in Texas. The company is a member of AGC and the OSHA Local Partnership Program.

Bob Moore Construction is proud to be a sustaining member of the Tilt-Up Concrete Association (TCA). Founded in 1986, the TCA is the country's largest organization for the advancement of site-cast Tilt-Up construction, a method in which concrete wall panels are cast on-site and tilted into place. Sustaining members of the TCA are major industry leaders who have committed to an advanced level of involvement with the organization and the tilt-up industry. Bob Moore Construction employees have served in top positions with this prestigious association, including president and member of the board of directors.

For more information about Bob Moore Construction's green building program, please visit their website at